Get your Winter self-care essentials. Join now.
10 Simple Ways to Add Self-Care to Your Routine
The Allayya Team, July 11, 2022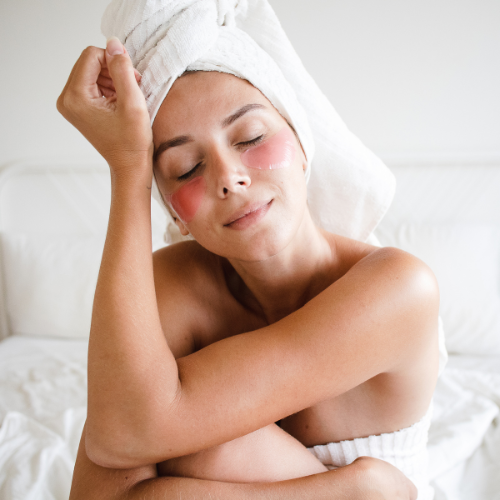 Try telling your friends about your self-care routine, and (we bet) at least one of them will immediately picture you in a bubble bath, with a sheet mask on your face and a glass of wine in your hand. Don't get us wrong, we know that the widely beloved bubble bath, sheet mask, and wine combo is just the little extra pampering we all need every now and then. But, daily self-care is more about the practices you regularly and mindfully incorporate into your everyday routine so that you can attend to your needs and be cared for by yourself. Here are 10 simple ways you can add more self-care into your daily routine. Try them; your body and mental health will thank you.
Start your day a little earlier. Getting up 1 to 2 hours earlier than usual will allow for some alone time before everyone else in your house wakes up. Not only will you have a chance to prepare a tasty breakfast for yourself (and actually enjoy it), work out, or read a book, but you'll also feel productive and accomplished throughout the rest of the day.
Go to bed a little earlier. Of course, you can't start your day off right if you don't feel well-rested in the morning. That's why it's critical to get enough sleep at night. According to the National Sleep Foundation, Most adults need between 7 and 9 hours of night sleep. With that in mind, decide on a set bedtime that works for you and your schedule, and do your best to stick to it every day. In addition, build a sleep routine that you follow every night, 30 to 60 minutes before going to bed: take a warm shower, have a cup of tea, or listen to calming music.
Move more. Get up early (see #1) and hit the 6:00 am yoga class. Go for a morning jog—or for a lunchtime walk. Or even exercise while watching TV (you'll find plenty of easy ideas online)! Whether you prefer Zumba, jogging, or lifting weights while watching Emily in Paris, try to get at least 20 to 30 minutes of exercise a day.
Up your water intake. Drink plenty of water—about 2.7 liters a day for women. Get a reusable water bottle that you love and makes you want to take it with you everywhere you go. Aim to refill it every hour. We're obsessed with Que Collapsible Water Bottle featured in our current Allayya Box.
Eat more fruits and veggies. Make sure to eat about 2 cups of fruit and 2 1/2 cups of vegetables per day, according to the USDA's 2020-2025 Dietary Guidelines for Americans.
Jazz up your shower time. For many women (we're looking at you, mamas) shower time is as close as we can get to me-time on some days of the week. So, why not turn our rather ordinary shower into a spa-worthy moment we look forward to every day? Get a new body wash with a seasonal scent you like (bonus points if it's from a small brand you just discovered). Have fun trying out bar soaps, shower oils, loofah soaps, shower steamers—you name it.
Meditate: Curious about meditation but not sure where to start? A meditation app or meditation library such as the Allayya Self-Care Toolkit can help you get started and create your very own meditation rituals. Even a 5-minute meditation as soon as you wake up in the morning can help you feel more centered and less stressed and anxious.
Master the art of the unapologetic no. Get comfortable with saying no to things that don't serve you. When you say no to invitations and plans that stretch you too thin, you're saying yes to yourself, your mental health, and your well-being. Forget about FOMO and instead embrace JOMO (joy of missing out).
Connect with a loved one. Have a [smartphone-free] meal with your partner or family. Call your parents or grandparents. Text that one friend that always makes you laugh.
Have some alone time. On busy days, take at least 5 to 10 minutes to have a cup of tea or coffee, preferably away from any screens. Whenever you have some more time, try to take at least 30 minutes to do something that's just for you—perhaps revisiting an old hobby that you love or journaling. The point is doing something that gives you joy and makes you feel more like yourself.
Allayya offers curated products, resources, and digital tools that can help you add small moments of self-care to your day, and become a calmer, happier you.